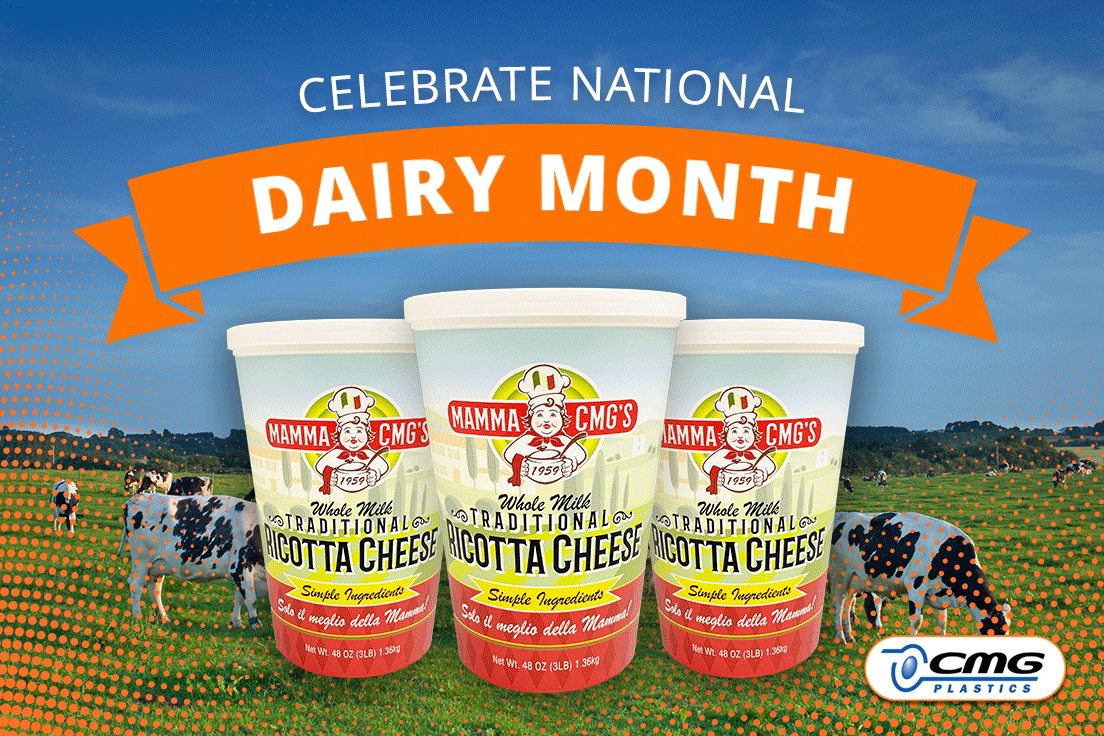 National Dairy Month in June kicks off with World Milk Day on the first of the month. This month-long celebration of dairy actually started as National Milk Month back in 1937 to promote drinking milk when production was at a surplus.
Today, we continue to celebrate dairy foods that are rich in nutrients like calcium, potassium, vitamin A, vitamin D, and protein that keep us healthy and reduce the risk of disease. We also recognize the contributions of the dairy industry to the economy.
With about 49,000 dairy farms across all 50 states and Puerto Rico, 97 percent of which are family-owned, and U.S. dairy production and processing responsible for more than 900,000 jobs, many households and businesses truly run on dairy!
CMG Plastics has close relationships within the dairy industry, thanks in large part to our in-mold labeling solutions.
In-mold labeling is a process that places a preprinted label directly into a mold prior to injecting plastic. The label is essentially built into a fully recyclable plastic package in a single manufacturing step.
This not only reduces manufacturing time and costs, but also allows for more textures, colors, finishes, and other design choices that enable brands to stand out on the shelf. Just look at the dairy aisle to see the impact of in-mold labeling – yogurt, sour cream, cottage cheese, cream cheese, coffee creamers, and more.
According to a recent market report, in-mold labeling growth is expected to continue for the next decade, driven by:
Growing demand in the food packaging sector.
The appeal of attractive packaging to customers.
Transparent structure, which makes package contents visible to consumers.
Elimination of glued-on paper labels.
Desire for environmentally friendly labeling solutions.
CMG Plastics is proud to be the go-to resource for in-mold labeling for some of the biggest names in the dairy industry. As we celebrate National Dairy Month, we'd like to thank our dairy partners for everything they do for our families and people across the country.
If you'd like to discuss how your dairy brand can benefit from in-mold labeling, please contact CMG Plastics today!