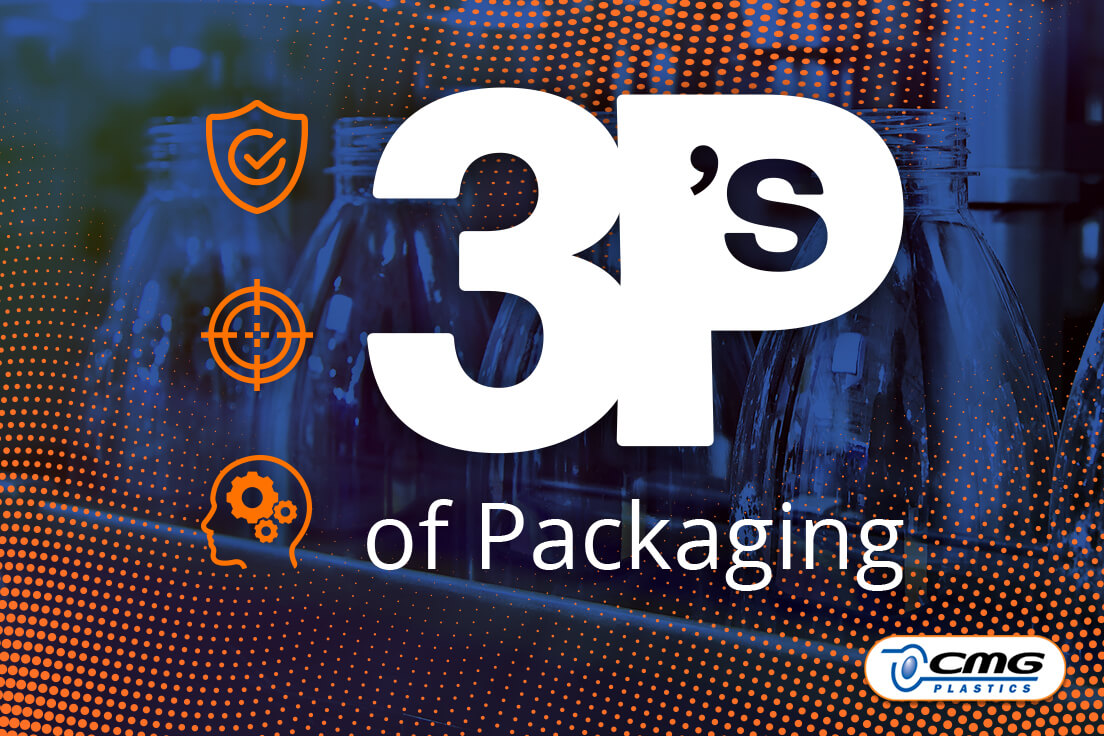 You're probably asking, "What exactly are the 3Ps?"
Simply stated, they are Protection, Printing, and Perception.
How well a brand performs in the mind of the customer is key to short-term satisfaction and long-term brand loyalty. The 3Ps of packaging are key aspects that directly impact what customers prefer, choose and purchase.
PROTECTION
Product protection cannot be overstated. Does your current packaging have all the performance characteristics that are required to deliver your products safely as well provide the desired life cycle and stability requirements? Meeting these protection requirements is the first order of business.
At CMG Plastics, we supply rigid packaging to a wide range of markets, including personal care, dairy, food and beverage, healthcare and more. Our diverse experience and perspective allow us to work with our customers on the latest package protection alternatives and help to provide complete packaging solutions.
PRINTING
What's printed on your package is another important component of what helps drive brand performance. Printed features such as bar codes and QR codes provide functional tools that help with faster checkouts as well as provide links to additional brand information and promotions that enhance the customer experience and build product loyalty.  Additionally, eye catching graphics can help your product stand out on a crowded shelf.
CMG's In-Mold Labeling and Offset Printing decorating capabilities provide us with the ability to deliver cost-effective finished goods with printed markings that are clear, precise, and pleasing to the eye. In-Mold Labeling (IML) specifically can provide highly functional and appealing graphics to a product in a single manufacturing process while also being fully recyclable.
PERCEPTION
Your brand's perceived value and functionality are heavily influenced by its packaging. The choice of your packaging materials, shapes, and/or features all are factors that can impact a brands perception. For consumers, it can drive preference, especially in commoditized product categories. For commercial and institutional applications, it can enhance functionality to expand the products usage. Sometimes stock packaging can satisfy these requirements and CMG offers several stock packaging options (PET Bottles and Cups & Lids) to choose from. Other times, a customized package is called for.
CMG has been providing customized rigid plastic packaging solutions to its customers for decades.  Our extensive plastic injection molding, stretch blow molding, extrusion blow molding capabilities allow us to offer our customers a variety of manufacturing platforms to build packaging products that meet your products' specific needs.  Whether it's a cup with visually stunning graphics or an opaque bottle with multiple view stripes to monitor product usage, CMG has the resources and experience to help your products and brand perform at their best.
So, what's your brand's 3P packaging score?
CMG Plastics can help you identify it and improve it. Why not get together with one of our packaging experts to discuss the opportunities and possibilities. Contact Us today and let's talk about how you can put more performance and personality in your packaging.