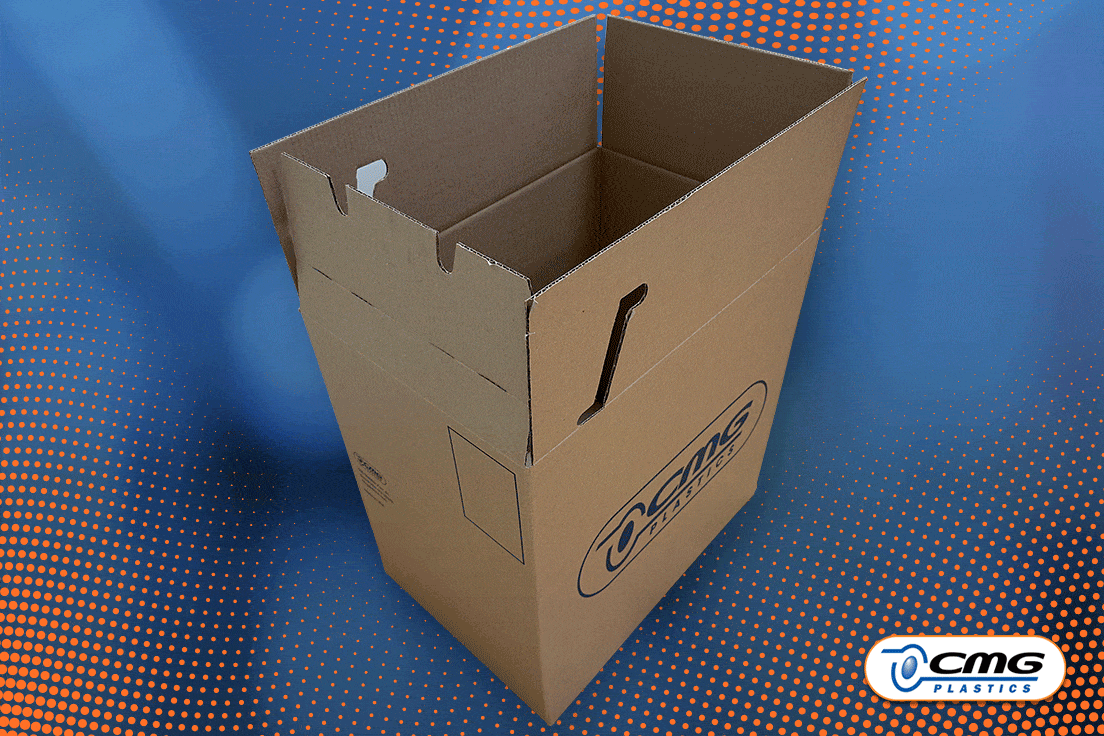 Smarter packaging solutions that benefit the brand, the product, and our planet, are high on everyone's list. Especially our list. That's why CMG Plastics continuously looks at every aspect of our operations. From materials to manufacturing platforms to supply chain partners, we are always looking for ideas that offer real-world advantages to all stakeholders. Working with one of our supply chain partners, we recently started utilizing a tapeless corrugated box for our small plastic bottles.
Originally introduced in our Brantford, ON Canada manufacturing facility several years ago, it's now being utilized at our Somerville, NJ USA location. The box eliminates the need for sealing tape by combining the strength of the corrugated cardboard itself and an ingenious die-cut locking flap system on the carton's top and bottom. Easily fastened, it creates a strong, secure seal without the use of any tape.
The "green" advantages are numerous. Without the damage done to the cardboard when tearing off the tape to access the contents, the new tapeless boxes can be reused as many as a dozen times. The box is also easier to recycle as there are fewer contaminates (e.g., layers of tape) remaining on the box when its end-of-life has been reached.
The box contents are protected by placing a polybag liner in each box prior to filling. The liner creates a barrier between the bottles and any possible contaminates. Additionally, because the box is tapeless, line personnel no longer need a utility knife to open the box.  This eliminates the possibility of any damage to the box's contents during opening.  But more importantly, any potential employee and food safety hazards are also eliminated.
This tapeless corrugated box is just the latest in our ongoing efforts to bring sustainable solutions to all areas of our operations. Recently, we installed several new packaging systems for some of our larger bottles that use less packaging materials, preserve natural resources, and reduce costs. These systems use the rigid structure of the bottle to maintain the structural integrity of the package while using polybags instead of fully enclosed corrugated boxes to secure the product. These fully automated systems orient the bottles into compact and efficient packing units. A bag is then formed around the bottles and heat sealed around the entire packaging unit, creating a sealed hygienic package that can be easily handled by plant personnel.
CMG Plastics is always looking for opportunities and advancements that improve how we operate and fulfill orders while minimizing environmental impact with eco-friendly packaging innovations. It's smart business and a whole lot more.