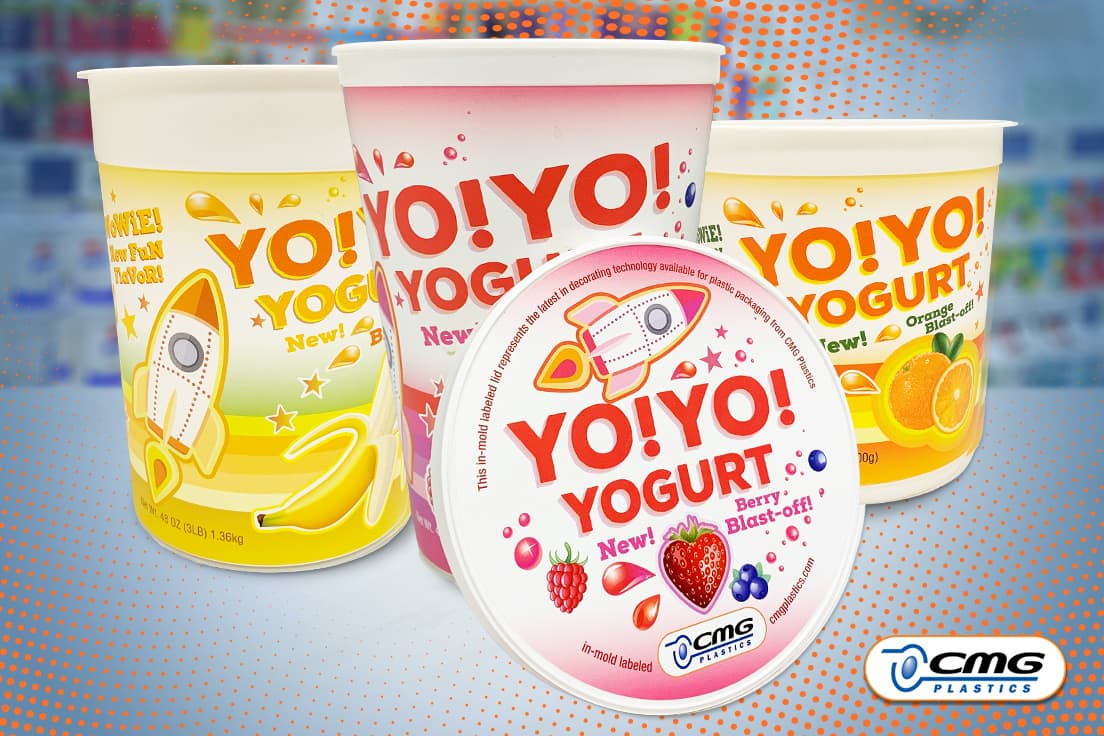 Are you a marketer or brand manager of food, beverage, healthcare, beauty, or personal care products? Well, here are some numbers that will have you thinking long and hard about how in-mold labeling (IML) and intelligent packaging will drive your sales and grow your bottom line in the future.
As cited by Verified Market Research in the findings of a recent study, the Intelligent Packaging Market size was valued at $18.59 billion in 2022 and is projected to reach as high as $36.33 billion by  the year 2030. That increase represents a 6.73% annual growth rate over the next seven years.
The main reason? Simply stated, intelligent packaging adds value to every stage in the supply chain and packaging journey.
THREE KEY AREAS OF INTELLIGENT PACKAGING PERFORMANCE
Supply chain continuity, brand integrity, and consumer brand loyalties were all significantly impacted by the COVID-19 pandemic. Intelligent packaging provides a highly reliable and efficient solution when compared to traditional packaging systems. It helps in the close monitoring, tracking, and tracing of the supply chain and offers the ability to detect and minimize counterfeiting. And it's a visual and graphic assist to help generate consumer preference in the highly competitive food and beverage categories.
THE IML ANSWER
Available through CMG Plastics, IML provides intelligent packaging with the ability to address all these concerns in one end-to-end solution. IML is an innovative Injection Molding process where a preprinted label is placed directly into a tool (mold) prior to injecting the plastic. In a single manufacturing step, the plastic packaging label becomes a completely functional and integral component of the final product.
THE BRAND BENEFITS OF IML ARE MANY
The decorating capability of this leading-edge technology allows for a full range of textures, colors, and high-resolution images to address specific needs and eliminates having to go through costly and time-consuming secondary, post molding labeling and decorating processes.
Consumers will enjoy rich brand experiences through the use of IML augmented reality (AR) packaging, which brings added value to the many stages of the consumer journey. Via an app downloaded to a mobile device, AR is activated through an invisible printed code on packages and labeling. It has the ability to virtually surround the consumer with 3D images and shareable, interactive activities that bring a brand to life.
Increased legislation regarding food and beverage safety and packaging has led to greater demand for intelligent packaging. Information rich IML addresses these concerns and also helps products retain the shelf life and freshness, while optimizing nutritional value. In the healthcare industry, regulatory compliance can be achieved and maintained through the addition of proper product information.
At CMG Plastics, we're always sourcing packaging technologies and offering manufacturing advancements that help clients meet and surpass their goals and challenges.
Contact us at and let's talk about how we can help you achieve and surpass yours.