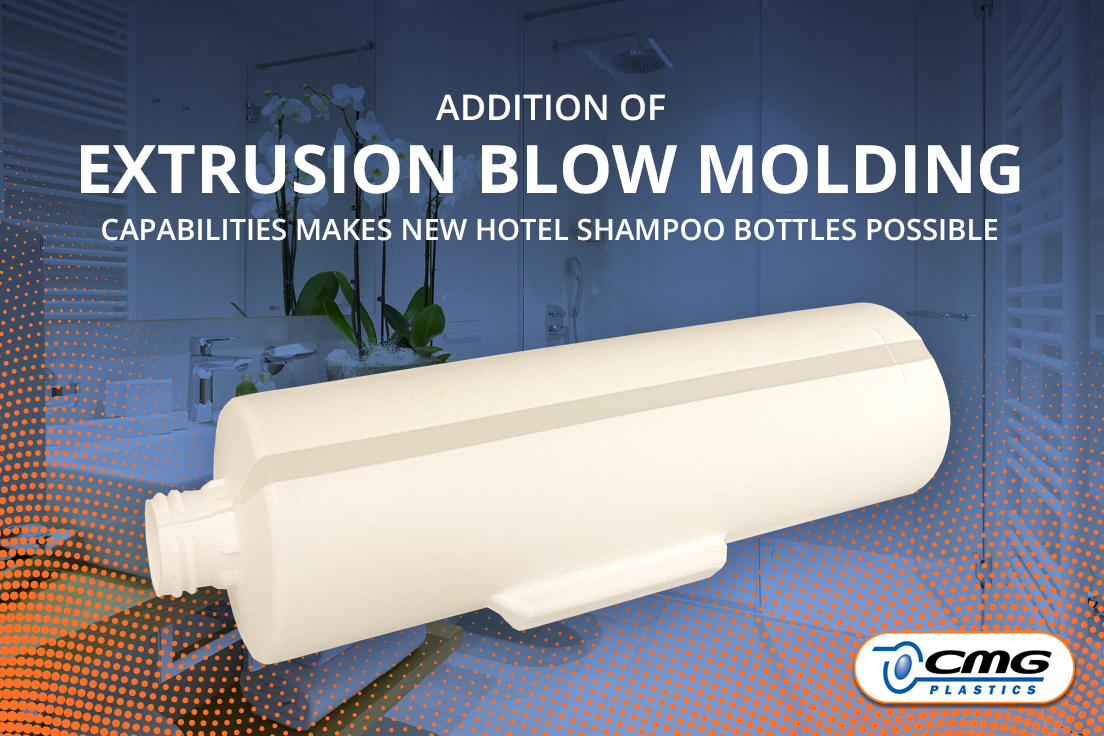 CMG Plastics is pleased to announce that we have added Extrusion Blow Molding (EBM) capabilities to our Somerville NJ manufacturing location to be used in the production of HDPE bottles for a new Hotel Shampoo Dispenser System.
For decades, hotel guests would walk into the bathroom to find a collection of small, disposable bottles of shampoo, conditioner, and body wash. The cleaning staff would discard each bottle, even if the contents had been barely used after each stay. A significant amount of product and packaging would be wasted daily.
Today, more hotels are switching to wall-mounted dispensers that do not have to be replaced as frequently as travel-sized bottles. However, there are still challenges such as: How will the cleaning staff know when to replace each bottle if the bottle was not clear? How will the bottles be secured to the wall to prevent theft but still be easy to remove and replace? How can the system be cleaned when replacement of the bottle is not necessary?
Utilizing our newly added Extrusion Blow Molding (EBM) capabilities and working with our customer, CMG Plastics produces a custom, HDPE, opaque bottle that incorporates two clear view stripes on opposite sides of the bottle so the cleaning staff can easily determine whether a bottle needs to be replaced or not. Additionally, the bottle has a protrusion that allows for it to be mounted securely to a small wall mounted bracket that also allows for easy access for cleaning. Bottle features such as these cannot be produced using other types of blow molding technologies.
The addition of Extrusion Blow Molding (EBM) capabilities is an exciting new step for CMG Plastics. When combined with our existing Injection Molding (IM) and Injection-Stretch Blow Molding (ISBM) platforms, we continue to provide our customers with multiple manufacturing solutions for their custom rigid plastic packaging requirements, in support of a wide range of industries.
To learn more about all of our manufacturing capabilities and how we can help you create custom packaging solutions for your application, call us today to schedule a consultation.