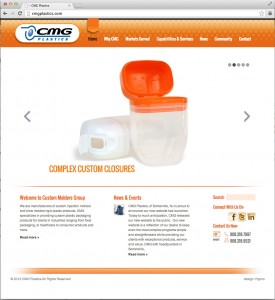 CMG Plastics, of Somerville, NJ is proud to announce our new website has launched.
Today to much anticipation, CMG released our new website to the public.  Our new website is a reflection of our desire to keep even the most complex programs simple and straightforward while providing our clients with exceptional products, service and value.
CMG with headquarters in Somerville, New Jersey offers custom molded plastic solutions to a variety of clients from food and beverage industries, to healthcare, pharmaceutical and medical device manufacturers, to consumer goods, and more.
The new website is designed to make it easy for customers to find the information they need fast, and to showcase the diverse projects and capabilities of the company.
With manufacturing facilities in New Jersey and in Canada, CMG is able to handle even the most demanding of projects and customer's needs. The new CMG Plastics website confirms the company's commitment to quality, simplicity, and value.
For More information Contact: Jens Duerr, ext: 203